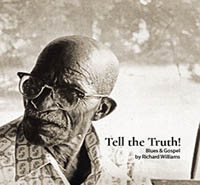 Richard Williams
Tell The Truth: Blues and Gospel

"John Henry"

"You've Got To Move"

"Trouble in Mind"

Tell the Truth! features blues and gospel music by guitarist Richard Williams and his family. Recorded in Alachua County in the late 1970s and early 1980s, this music provides a unique look into Florida's rural blues traditions.

The music of Richard Williams and his family suggests what country blues music in Florida might have sounded like in the early part of the 20th century. Born in 1887 in Jonesville (near Gainesville in Alachua County), Williams started out performing at local parties after learning to play guitar in the phosphate camps where he lived. His repertoire consisted largely of dance numbers known as "set pieces" but also included blues songs picked up from itinerant workers and popular songs from local jukeboxes.

The majority of the recordings on this compilation were made by the Florida Folklife Program for the North Florida Folklife Project on May 27, 1978, capturing Williams in the twilight of his life only three years before his death in 1981. While his technique and memory are not as strong as they would have been when he was in his prime nearly 60 years earlier, this collection provides a unique glimpse into a bygone era of black folk music.
Various
Shall We Gather at the River

The Visiteers "Jesus Met the Woman at the Well"

Florida-Alabama Shape Note Singers "Amazing Grace"

Hickory Bottom Harmoneers "I've Got Heaven On My Mind"
This disc highlights Florida's African American religious music traditions. The collection features both nationally recognized acts and previously unknown local artists, including the Dixie Hummingbirds, the Georgia Sea Island Singers, the Versiteers, and the Amigo Male Singers.
Christian sacred music is performed by African-Americans in a variety of social contexts, which range from informal unaccompanied singing, to spirited church meetings, to gospel concerts by professional artists. Like its secular counterparts such as jazz, blues, and various other popular music forms, the music combines African and European influences to create unique and compelling musical expressions.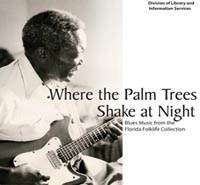 various artists
Where the Palm Trees Shake at Night

Tampa Blue Locklear "M&O BLues"

Ida Goodson "Careless Love"

Cephas & Wiggins"Dog Days"
The music presented on Where the Palm Trees Shake at Night was selected from hundreds of hours of Florida Folk Festival performances and field recordings spanning 25 years, from 1977-2002. Alongside the down-home folk traditions of Emmett Murray, Richard Williams, and Moses Williams are performances of standard blues by Albert "Buck" Thompson, Charles Atkins and Martin "Tampa Blue" Locklear. The Piedmont finger-picking style of North Carolina guitarist Etta Baker was captured at the Florida Folk Festival, as was the renowned Washington, D.C. duo Cephas and Wiggins' more modernized interpretation of Piedmont Blues.